Jami's Latest News
Cupcakes and Books Scavenger Hunt

Are you ready to find new authors and win prizes? I'm one of the sponsors of the Night Owl Reviews Cupcakes & Books Scavenger Hunt on June 16 – July 7. You don't want to miss this fun event.
Bodychecking Live on All Sites
Bodychecking is now live on Google Play and all other platforms, including pri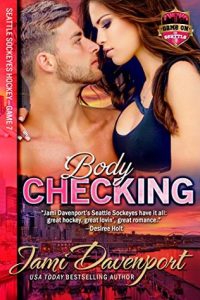 nt. 
read more »
Bodychecking Preorders
Bodychecking is now available for preorder on most outlets. Preorder your copy of Bella and Cedric's story today.
read more »
101 Romance Reads $3000 Giveway
Click the graphic to enter:
read more »
Cover Reveal for Bottom of the Ninth
Introducing Seattle Skookums Baseball
Ready? Drum roll……. Here's the cover for Bottom of the Ninth–my first Seattle Skookums baseball novel and Zeke's long-awaited story due out this summer.
This will be a fun one to write, the man who's written off his entire family rescues a young woman and three children. Before he knows it, he has an instant family he's certain he doesn't want.
read more »