The Latest from Jami
Sacked in Seattle Book Trailer
Sacked in Seattle–The first book in my New Adult Sports Romance series, Men of Tyee, releases on August 24. 2017.Riley has loved Tiff forever but she's never felt the same.You can preorder Sacked in Seattle here:iBooks: https://itunes.apple.com/us/book/sacked-in-seattle/id1178828134?ls=1&mt=11Amazon: https://www.amazon.com/dp/B072K9JQX7Nook: https://www.barnesandnoble.com/w/sacked-in-seattle-jami-davenport/1126549252?ean=2940157546366Kobo: https://www.kobo.com/us/en/ebook/sacked-in-seattle

Posted by Jami Davenport on Wednesday, June 28, 2017
Preorder Now:
Goaltending is Available NOW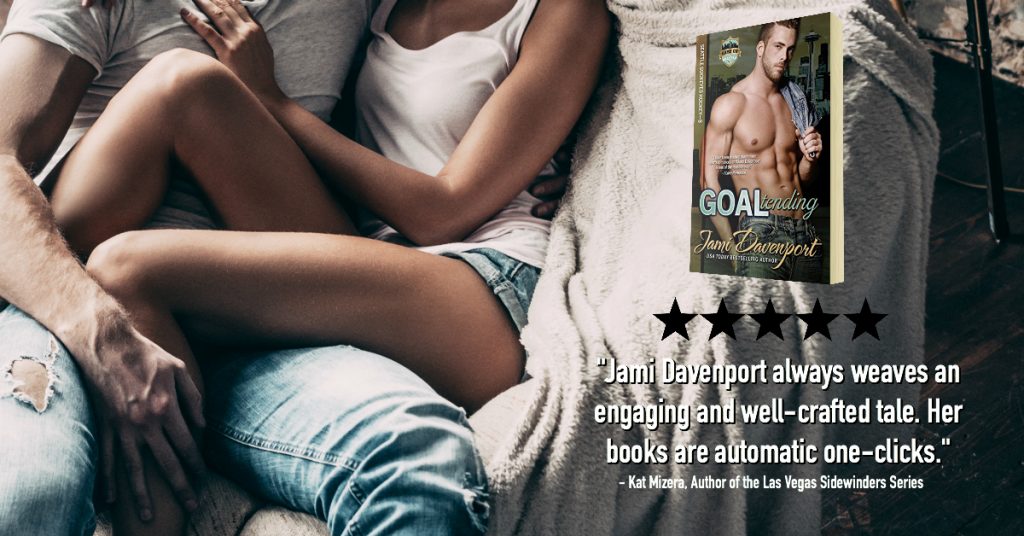 My bad boy, single dad, playboy goaltender story is now available. Here's what they're saying about Goaltending:
"Emotional, Endearing,and Absorbing! I absolutely loved this story!!"–Reviews from the Heart
"Once again Jami Davenport has given us yet another great addition to The Seattle Sockeye family that I have grown to love."--Mi Bookshelf
"This book is a really fun whirlwind of romance."–Hers for the Reading "This book has lots of layers of both fun and serious."–Sweet Sexy Escape
"I loved this story so much, it was a well-rounded read, that gave me the feels, made me blush, and left my heart happy."–Red's Romance
"This is a sweet love story about building a family and a new life."–Book Addict Live
"This book will definitely pull on your heartstrings and is a must read. This is a 5 star read and I would give it 10 if I could."–Sassy Southern Book Blog
Now Live–The Wolfe Brothers Trilogy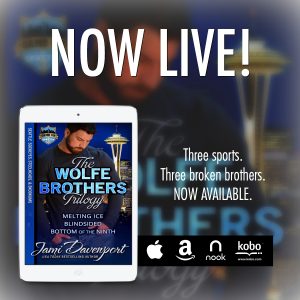 Three sports.
Three broken brothers.
Torn apart by tragedy and forever bound by traumatic pasts.
Thrust together once again when their paths cross in Seattle.
MELTING ICE
Brimming with attitude and broken beyond repair, Isaac "Ice" Wolfe has a heart as cold as his nickname, and he likes it that way–until he meets his neighbor Avery Maxwell. When Isaac is warned away from Avery, he sees the writing on the wall. It's Avery or his career. To Isaac, a life without hockey wouldn't be a life worth living. But what about a life without Avery?
BLINDSIDED
Tanner Wolfe is blindsided–by his dysfunctional family, his plummeting career, and the one thing he least expected–by love. After photos with Emma go viral, Tanner is caught in a lie and tells a bigger one to get out of it. Now he's shoulder-pads deep in a temporary marriage while struggling to resurrect his disastrous career and reunite his broken family.
BOTTOM OF THE NINTH
Zeke Wolfe, the man who's written off his entire family, rescues a young woman and three children on a stormy Seattle night. Before he knows it, he has an instant family and a fake fiancé he's certain he doesn't want.
RJ Scott's Annual Autism Awareness Blog Hop

I'm thrilled to be participating in RJ Scott's Autism Awareness Blog Hop. To follow along, click here:
AUTISM FACT:  Interaction with animals can assist in a child's social interactions with people, depending on the child and the suitability of the animal.
To learn more about autism, click here:
http://www.autism.org.uk/about/what-is/myths-facts-stats.aspx
http://nationalautismassociation.org/resources/autism-fact-sheet/
http://kerrymagro.com/68-things-to-know-about-autism-for-autism-awareness-month/
Connect with Me
There are multiple ways to connect with me. Here are a few:
Preorder Goaltending Now!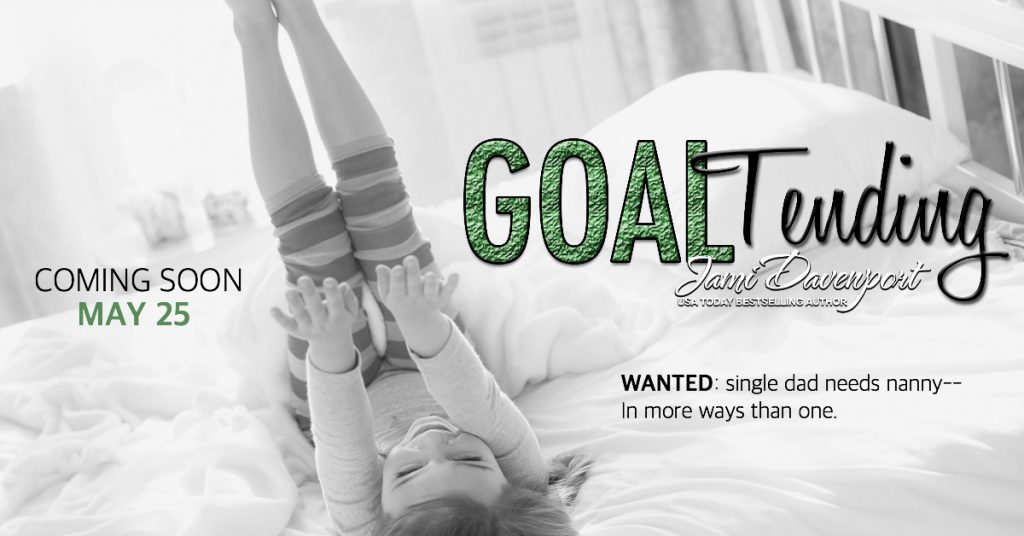 WANTED: single dad needs nanny–In more ways than one.
Martin "Brick" Bricker is living the good life. He's playing the sport he loves, has all the women he can handle, and parties like a rock star.  At twenty-six, he has no interest in slowing down or taking anything seriously —except hockey, of course.
Then a knock at his door changes everything. Suddenly he's the single father to a five-year-old daughter he didn't know he had, and he's trading his playboy ways for barbies.
Game Changer Available Now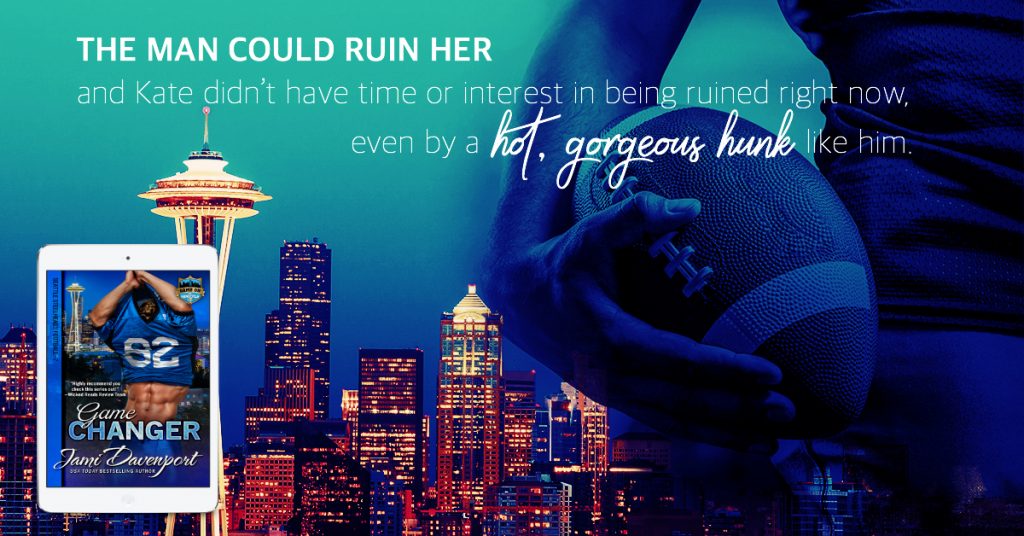 "Highly recommend this one, it is sure to tug on your heartstrings and leave you with a smile!"
— Red's Romance Reviews
"I loved everything about Game Changer" — Slick Reads, Guilty Pleasures (A Purest Delight)
"Five Stars! Add in a hot jock with a lot of opinions, an abundance of heart and just the right motivation and the race is on." – Isha Coleman, Hopeless Romantic
"Jami Davenport has done it again, another great novel which blended two sports into one book and put many hearts on the line." – My Timeout Book Blog
"This book will not disappoint! You won't be able to put it down. " – Hockey Girls Book Reviews
"The story line pulled me in from the get-go and was unlike anything else that I have read in the past, which was a really refreshing discovery. Highly recommend this one, it is sure to tug on your heartstrings and leave you with a smile!" – Reds Romance Reviews
"A new delve into horse racing from one of my favorite sports authors! A really enjoyable read" — Thoughts of a Blonde
"I loved this book, I was sucked in from the first page!" — Sweet and Spicy Reads
Are you Ready for Game Changer?
Read the First Chapter of Game Changer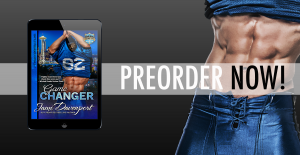 Chapter 1—Longshot
Purple hair looked good on Hunter McCoy.
He glanced at himself in the rearview mirror and smiled. Lilli would love his new look—even though she couldn't exactly see him.
He put his truck in gear and zipped out of the parking lot, anxious to get home. Several minutes later, thanks to less-than-average Seattle area traffic, he drove down the gravel driveway to the country home he lived in with his sister, Lilli.
Game Changer Available for Preorder at Most Retailers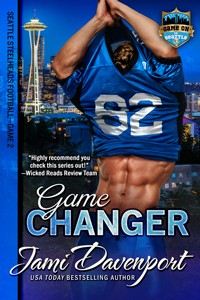 When horse racing and football collide, Hunter McCoy, star tight end of the Seattle Steelheads and neophyte horse owner, finds himself in a battle of wills with a sexy horsewoman and a stubborn, champion Thoroughbred.
« Previous Page
—
Next Page »