Preorder Now: Tackled in Seattle
Men of Tyee #2
Release Date:  April 28, 2018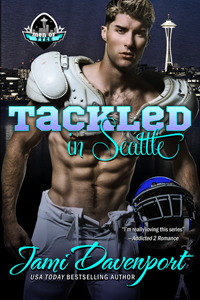 Tyee's playboy quarterback, Gage Harmon, can have any woman he wants, and he takes full advantage of his campus celebrity status. Alisa Brown is supposed to be just one more conquest. And she was. Or so he thought. Only Gage doesn't let anyone get close, even his best buddies, because they might discover his rich, surfer boy image couldn't be further from the truth.
Alisa Brown loves 'em and leaves 'em. Life without messy emotional entanglements is better that way. With an ocean full of broken hearts trailing in her wake, she never looks back–until Gage. The fun-loving playboy appears to have it all until his season-ending injury has both of them questioning what they really want from life and love.
Alisa and Gage's passion ignites and takes them into uncharted territory where secrets can't be kept and promises beg to be broken. Can Gage trust Alisa enough to reveal the pain hiding under his player façade, or will he once again run from the one women who could love him for himself?