Blog Tour and Two New Books Coming Soon!!
Posted Sep 24 2013, 6:06 pm
I'm happy to announce two books coming soon.
Backfield in Motion should be released by the middle of October. It's with the copy editor right now.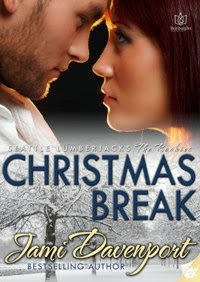 Christmas Break–Seattle Lumberjacks, The Rookies, should be out in time for Christmas. This is my new adult spin-off series featuring the rookies on the team.

Backfield in Motion is on tour from October 14 through November 1.

Oct 14th- Renee Entress's Blog
(Stop 2) I am a Book Addict…and Proud of it
Oct 15th- Save Your Money for Books
Oct 16th- Dear Brighton
Oct 17th- Wanderlust Book Reviews
Oct 18th- Paws and Print
(Stop 2) Snarky Mom Reads
Oct 21st- Reviews by Karen
Oct 22nd- A Tasty Read Book Reviews
Oct 24th- Escaping Reality One Book at a Time
Oct 25th- My Written Romance
Oct 28th- Diane's Book Blog
Oct 29th- Racing to Read
Oct 30th- For the Love of Bookends
(Stop 2) Words of Wisdom from the Scarf Princess
Oct 31st- Book Freak
Nov 1st- Toots Book Reviews
ALL YOU'LL EVER BE IS A PRETTY FACE

Star running back Bruce "Bruiser" Mackey has heard those words his entire life, especially after his twin brother's tragic accident. He might use his surfer-boy good looks to land lucrative endorsements for his secret charity, but he hates books being judged by their covers. Which is why it's wrong that his friend Mackenzie Hernandez is intent on giving herself a makeover.

Sure, Mac and her father have been reeling financially since her brother disappeared three years ago, and Lumberjacks management gives an annual scholarship that might get her life back on track, but he can't imagine anyone smarter, sexier, or more beautiful than Mac already is. He can't keep his hands off her—and the more they spend time together, the less he wants to. She's perfect as is. One way or another, he'll make sure the team's tomboy groundskeeper gets a full ride. And between the two of them, they can learn to accept what's behind them and look downfield to a future full of win.
No Comments