Cover Reveal for "Save the Last Dance"
Posted Sep 16 2013, 11:55 pm
I have the rights back to my Evergreen Dynasty Series. I'll be editing them and re-releasing them with new covers. Kim Killion did this wonderful cover for book one in the series: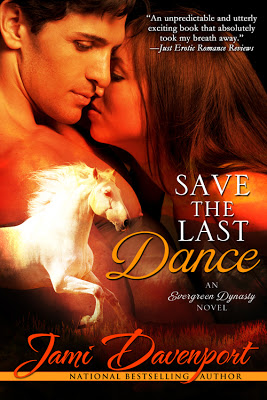 Save the Last Dance

What's a girl to do when her former fiancé declares that she's frigid?Mariah Baker decides to take a jaunt on her wild side–if she can find it. The scruffy Puerto Rican leasing the waterfront house next door appears to be just the man for the mission. After all, what better way to defrost than with a sexy Latin lover? Only Rico isn't who she thinks he is, and time is her enemy.
Rico finds fashion-obsessed Mariah intriguing and unique. For starters, she makes horses dance, and his heart does its own tango for her. Besides, a hot summer fling is a welcome distraction from his depressing, uncertain future and dysfunctional, freeloading family.
As their summer together comes to an end, Rico's phobia toward falling in love and Mariah's insecurities are a recipe for a trouble in paradise; but in the magic of the San Juan Islands, anything is possible. Or is it?
No Comments