Do You Believe in Things You Can't See?
Posted Oct 17 2013, 2:25 pm in Ghosts, Jami Davenport, Manresa Castle, Spirited Away Paranormal Tours
A few years ago SportsGuy and I had a ghostly experience.
It started with some record-breaking cold temperatures in the month of November, icy roads, and snow. At the time, I thought the culmination of that month would be accepting a publication offer for my football romance, Fourth and Goal. Yet, my hubbie and I had an adventure which almost rivals selling the first book in most beloved series.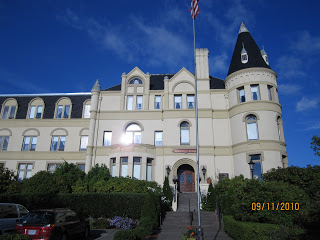 Manresa Castle, Port Townsend, WA
SportsGuy and I love to take weekend trips to places within Washington state. One of our favorite places is Manresa Castle in Port Townsend, Washington. We've made it a habit to leave town for Thanksgiving and Christmas for a lot of reasons but mostly because my husband finds the holidays too painful as he hasn't had the opportunity to spend a Christmas or Thanksgiving with his children in about two decades.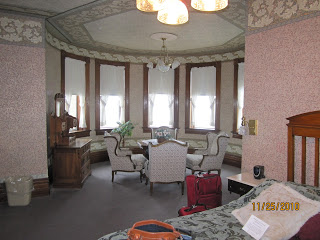 Room 302
So armed with a fifty-percent off coupon for Manresa Castle and reservations at the Castle Key Restaurant for Thanksgiving dinner, we drove the hour-and-a-half to the castle on Thanksgiving morning. We booked the infamous tower room for our stay. Infamous because Manresa is supposed to be haunted by an array of ghosts.
In fact, one winter during a stay at Manresa, I had a "ghostly" experience. SportsGuy and I were sitting in the bar hanging out with Jimmy the bartender late at night. The castle was relatively deserted with the restaurant closed for the night and very few if any other guests in the building. I walked down the long hall to the women's first-floor bathroom, entered a stall, did my business, and was in the process of opening the stall door when I heard the bathroom door open and footsteps. I hesitated and listened. I didn't hear any one go into a stall. When I'd walked in all four stalls had been open and vacant. Jerking open the door in hopes of catching I don't know what, I looked out. No one there. I checked the stalls. Empty. I quickly opened the outer door and gazed up and down the long hallway. Nothing. And no one would have had time to disappear from sight. I returned to the bar and relayed my story to Sportsguy and Jimmy. It seems one of the resident ghosts has an affinity for that particular bathroom, as I wasn't the first to report strange things in there.
So back to Manresa's ghostly history. The building was built in the late 1800s. It's rumored a Jesuit priest became disillusioned with his faith in the early 1900s and hung himself in the tower attic directly above our room. Other reported ghosts include a woman who jumped from the 3rd floor window upon hearing her husband was lost at sea. Two weeks later he pulled into port. Also, there's a little girl whose haunting of the castle is a mystery, though it's rumored she might be the love child of Charles Eisenbeis, the builder and first inhabitant of the building. The castle has been featured on the Travel Channel's show titled America's Most Terrifying Places.
Now I'm one of those people who, while skeptical, tries to keep an open mind. My first night sleeping in the tower room was restless. I woke every couple minutes all night long. The second night was much easier, and I slept all night. We didn't see any obvious indicators of ghosts.
We made plans to return home on Saturday, but our plans changed. Friday night, we heard footsteps in the tower attic room above us. Well, I can tell you we're both the curious type so we high-tail it up the attic stairs right outside our room and find the attic door unlocked. Upon entering, we find a woman and two men setting up recording equipment and monitors in the attic. The woman, Datum, owns a spirit hunting business out of Portland called Spirited Away. Yes, a spirit hunting business.
They travelled from Portland to record and document spirits in Manresa Castle. Tomorrow, a group would be joining them for a spirit investigative tour. My husband, gregarious as he his, talked at length to the Spirited Away crew over the course of the evening as he ran into them in different parts of the castle.
Datum, the owner, graciously invited us to join their expedition the following night. It was an experience we couldn't pass up, even though hubbie is a definite skeptic, and I'm not exactly on-board with the program either, but I'm open to it.
Yet, as a writer, I welcome adventures as ways to gather information for future books. This was definitely an adventure. (Hmmm… I can see it now. A heroine who owns a ghost-hunting business? A hero with an old haunted mansion? How fun.)
I don't even know where to start, other than to say I left with more questions than answers.
We started in the attic tower room where the priest hung himself. A ghost hunting group before us had added a hanging noose in the attic just for a touch more ambiance. So we sat in a circle in the dark, about twelve of us, and took turns asking questions of the spirits. Each of us had an instrument, which I had to look-up the equipments' names on Spirited Away's website, as I'm a total novice. In fact, it appeared we were the only novices in this group. Many of the others toted their own personal equipment. Four of us had never done this before, me, SportsGuy, Aaron, and Liz.
Not much going on up there as far as we could tell with our inexperienced eyes, but Liz's EMF detector did go off a few times (at least that's what I think her instrument was called). SportsGuy held the dowsing rods, as a plumber he often uses them at his job to find water lines. His dowsing rods spun around crazily during the evening, but he never called attention to himself and told us afterwards.
From this room, we went to Room 302, where we'd been staying on Thursday and Friday night. I found this experience the most interesting as Datum introduced a Ghost Box. My totally novice explanation of what this thing does is it uses a radio frequency and does sweep and can pick up a spirit's responses and convert them to words in real-time.
Again, we asked the spirit(s) questions. I was sitting in a location where I could see the display screen on the infrared DVR. When we first sat down, I saw glowing balls travelling across the video display several times. I looked around the room for the source of the balls. I could find no reflection from inside or outside the room that would cause these balls (I think they're actually called orbs). They disappeared after a few minutes.
So as we again went around the room and ask questions of any spirits who might happen to come our way, I have to say I heard a couple distinct voices come through, especially a voice identifying himself as Marcus. Marcus died in modern times, as far as we could discern, and he had a potty mouth. He liked the "F" word. I know this sounds weird to a lot of you. I have no explanation for it, but I can tell you both Liz and I could recognize Marcus's voice. If you've never seen one of these devices used, there's a lot of interference, like trying to listen to a distant AM radio station which goes in and out. Yet, on a few occasions, the voice came through strong and clear. Our time in Room 302 ended when one of the participants insisted a demon was trying to come through. I was bummed as I felt it was just getting interesting. Liz admitted to me later that just before we'd stopped, she'd gotten extremely cold and was having chills.
From there we went to the chapel addition built by the Jesuit priests in the 1920s (I think). My EMF detector registered between the ¼ and ½ marks the entire time we were in this room, which were my highest readings of the night. We heard a few distinct voices, also. In fact, it appeared the group from Room 302 had followed us here. I heard some interesting things in this room. For example, when someone asked who the little girl ghost was, the reply came as "It's a long story." When asked if any of us had a guardian spirit, the answer was "seven of you." Now I like the idea of having a guardian, I'd like to think my mother, father, and sister watch out for me. When asked what they missed most about being human, one answered: "Food. Eating." He proceeded to answer questions about the type of food at length. The guy was really hungry it appeared.
Finally, no answers were coming through. I asked if they were done. Very clearly, I heard: Good Night. And so we wrapped it up at 3 am. I thoroughly enjoyed myself I can't explain a lot of it. I'm not even sure I'd want to. I really want to thank Datum, Zach, and Christian for allowing rank novices to join them and for giving us an adventure we'll remember for a lifetime. They ran the tour in a professional manner. Nothing struck us as contrived or created for the purpose of theatrics or sensationalism. It was all very above board.
If you ever get a chance to participate in a paranormal investigative tour, go for it. We weren't disappointed. I don't think you'll be.
Have you ever experienced a paranormal incident? Leave a comment below (even if it's to say that you haven't experienced one), and I'll enter you in a drawing to win the book of your choice from my Seattle Lumberjacks series. In order to enter, your comment must be made today (10/17/13). I'll announce the winner on this blog, my Facebook, and Twitter tomorrow.
To visit other blogs in this blog hop, go to this link: http://sablessweetdreams.blogspot.com/2013/09/attend-our-blog-hop-starting-october-1.html
No Comments