Hawaii, Thursday Report
Posted Dec 14 2007, 7:38 pm in Life, Vacation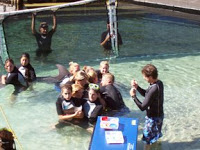 Guest Blogger, Dennis:
Once again we packed our useful items into the car and off to the Beach. We arrived at the Hilton Hotel to see all the beauty we had heard so much about. It was picturesque to say the least and one of the first things you see upon entering is a huge parrot, frosted pink in color, perched in his stand. We scratched his back awhile, talked to him, then walked around the enclosed waterfront where people were swimming, snorkeling, and basking in the sun.
Ah, alas, we reached our destination; the bar where we ordered lunch, a few drinks and prepared to watch the show which we were clueless about, until a lady informed us that they were about to obtain some data from a 9 week old dolphin; something they do every month. They measured, weighed, and took some blood samples as we watched from our front row seats.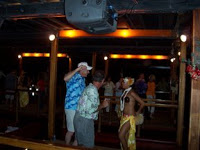 Our next destination was the beach; what more can I say! After a quick swim and a bit of snorkeling in the clear blue waters, we came back to prepare for the adventure we all had been looking forward to; "Captain Bean's Cruise". Arriving at our destination we encountered beautiful hula dancers greeting us and servers attending to our every need. Once aboard, we were soon greeted with Mai Tai's and smiles from all the natives, having as much, if not more, fun than we were. The band kept playing the whole time as we began to embark upon our 3 hour tour.
The show was absolutely amazing and the entertainment was quite professional, right up to the end where they encouraged us to get on stage and dance with stars, to which I needed no encouragement at all. Doug and I were having more fun than God allows but we were entertaining in our own rights; at least we thought so. It was then I realized just how many drinks we consumed and felt the strains of remaining vertical. Thankfully, the 3 hour tour was only 2 and we were pulling up to the port. I know I could not have taken another hour; I was spent, with fun had by all. How can one expound upon that.
No Comments