Guest Blogger: My husband, Dennis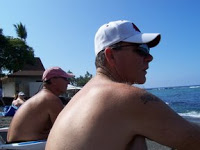 Waking up to the smell of coffee brewing is one of the better things in life, don't you agree? As we were drinking our Kona coffee on the patio we began to consider our options for today while eating freshly cut pineapple Doug brought us. Shortly thereafter Pam and Doug went for a brief but exhausting walk as I held down the fort with my book and coffee in hand.
The Beach; that seemed to be the option we chose so we packed the car with all the necessities and off to the sands and blue waters of Kona. I entertained the crowd as we drove by singing Hawaiian songs, not really knowing any words, so I made up my own.
It was beautiful! Watching the surfers and boogie boarders sitting on their boards, waiting for the next big wave that would wisk them away, paddle themselves back out and repeat the process over and over again.
Doug and I popped a top and watched as Pam began the arduous task of reading her book. We could wait no longer and, with that, we donned our snorkeling gear and into the water we went.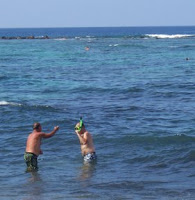 It was as if we were participants of the Jacque Cousteau program, swimming with the multicolored fish, totally unconcerned of our presence, eating whatever it is they munched on. Doug and I came back in for a quick break and as I was sitting on the beach I saw a turtle head pop up out of the water, disappearing as quickly as it came. I needed to investigate so I hopped in my gear and found my quest swimming along lazily, oblivious to my presence. I yelled to Doug, "Huge Turtle", and he came out to see for himself. At first glance Doug said that's just a baby and went back down to get a better look, resurfacing to say, it's a big one! We spent some time just swimming with it and catching a ride as he swam along foraging for food, totally carefree, still unconcerned with our presence.
After 3 hours of swimming, snorkeling, and observing the abundance of beauty, we decided to eat lunch at Huggo's on the water. From there a quick stop at Boarder's book store, then home again to catch a nap after such an exhausting afternoon. I'll tell ya, it's a tough job but somebody has to do it. Just another day in paradise.