Introducing a New Series and New Covers
Posted Nov 6 2016, 4:36 pm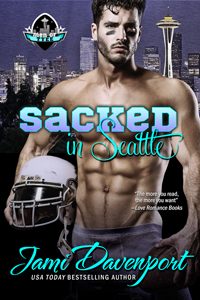 I have big plans for next year, starting with the release of Game Changer in early 2017 and followed by another Sockeyes Hockey book, and a brand-new series—
Are you ready for this? How many of you fell in love with Riley, the teenage nephew of Cooper Black in Crashing the Net? For a few years, I've toyed with the idea of giving Riley his own story, and now it's happening.
Introducing…
Sacked in Seattle
And The Men of Tyee
A Game On in Seattle New Adult and College Romance Series
Riley Black has loved Tiff for years, but she's never felt the same way. Or has she?
Available Spring 2017. Preorder Links Coming Soon:
https://www.jamidavenport.com/sacked-in-seattle/
And revealing the cover for…
Goaltending
(Seattle Sockeyes Hockey)
Game On in Seattle 8
Brick, the Sockeyes' young playboy goaltender, can't block this shot straight to his heart.
Available Summer 2017. Preorder Links Coming Soon:
https://www.jamidavenport.com/goaltending/
No Comments