Introducing the July Kindle World Releases
Posted Jul 19 2016, 9:52 pm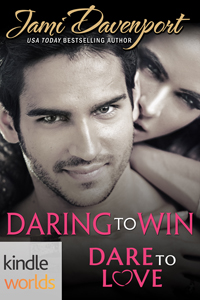 Daring to Win by Jami Davenport
One day away from living on the streets, former pro football player Jake Hudgins has sunk to an all-time low. When he's offered a job in a fledgling program to transition athletes at the end of their playing careers, he jumps on it, even though the offer was made to the financially-sound man he'd once been, not the broke one he is now. Taxed with being a good example for young athletes, Jake is a fraud, and his co-worker is suspicious.
Aggie Hermann has come to terms with never being a size 6 or even a size 12. She's made peace with her body and avoids men who see women as objects instead of looking deeper. Her new coworker, Jake, appears to be the superficial variety, and he has a secret. Aggie's certain of that, even as she struggles with the irresistible attraction between them.
Working closely together to get the job done ignites Jake and Aggie's passion until the resulting fire is sure to burn them both. Can their love survive the fallout when Jake's secret is revealed, or will it be reduced to ashes?
You'll also enjoy the other July releases in Carly Phillips Dare to Love Kindle World
Dreaming Up A Dare by Catherine Gayle
Hockey star Jackson Maddox and gymnast Pepper Winters have been best friends since childhood…
Just friends.
When Jackson needs a date to a prestigious party, he calls upon his petite and dazzling BFF to be his arm candy for the night. Nothing could be better than walking into a room with Pepper on his arm. Jackson won't ever admit how he really feels about her, because they're…
Just friends.
With her gymnastics career over, Pepper welcomes a chance to let her freak flag fly—especially with Jackson by her side. Pepper can't confess she's loved him since childhood. He's her best friend, and there's no reason to jeopardize what they've got. But they're still…
Just friends.
But when a seemingly harmless game of Truth or Dare gets a little too close and entirely too personal, can Jackson dream up a dare that could give them both what they really want?
Do You Dare by Chris Keniston
Billionaire businessman Chancellor Winston can pay for anything he needs…or wants. When his college buddy, Ian Dare, challenges him to experience how 'normal people' live by posing as an employee at the South Florida resort Chance's company just acquired, Chance can't resist. But having it all doesn't mean he knows it all.  Undercover and in over his head, Chance is learning money can't buy everything—especially love.
Single mother Faith Gifford is walking on eggshells.  The resort where she's the Head of Housekeeping has sold.  Sweeping changes are coming and her job might be on the chopping block. When she meets the new management trainee, the attraction is palpable and the heat undeniable. He's even great with her young son. Faith is falling fast, but when Chance's secret comes to light, will it prove to be the one bridge they can't cross?

Dare's Wild by Parker Kincade
Hotshot tight end Tanner Wild gives new meaning to the phrase play hard. Living the high life in Los Angeles, he blew through clubs and women as fast as he took down a defensive end—until his antics off the field landed him on the chopping block. A wild card no team was willing to play, save one—the Miami Thunder, his hometown team.
Out of options, Tanner returns to Miami, bitter in the face of the ramifications brought on by his own behavior, not to mention the memories of his high school sweetheart. The only woman he's ever loved. The woman he spent the last ten years trying to forget. Realtor Abby Nash thought she'd seen the last of Tanner Wild the day he dumped her for the greener pastures of college women. When her boss makes a sudden and not-so-subtle request that she help Tanner find a house, years-old heartache boils to the surface. But when she sees Tanner the explosive chemistry between them is too hard to resist. Even after ten years, he knows just how to touch her. How to make her forget the past and yearn for the future…a future doomed to repeat history if she can't learn to trust him again.
A Dare Without Regret by Wendy S Marcus
Ryan Monighan is one of the most popular players on the Miami Thunder Football Team. An all-star running back, he always makes time for his fans. They want a picture? He smiles pretty. An autograph? He's always got a marker handy. Sex? If she turns him on, then heck yeah! Too bad the only thing sexy, sassy Kiley Ivers wants from him is the one thing he will not do for a fan. And she won't take 'no' for an answer.
Kiley Ivers is barely keeping it together. After losing her family in a tragic car accident, she's left alone to run the family bakery and care for her thirteen-year-old nephew, Tyler. The sole survivor, he's stuck in the hospital, depressed and in pain. And Kiley will do anything to get his favorite football player to stop by for a visit to cheer Tyler up. Even go out on a date with him.
When things heat up between them, Kiley is on board with a short fling, as long as Tyler doesn't find out. She plans to be a respectable guardian for her impressionable young nephew. Unfortunately, nothing in Ryan's life stays secret for long.
No Comments