Man Cave 3–We have walls!!!!
Posted May 14 2009, 6:18 am in building;man cave;construction; writing, Jami Davenport, man cave
The man cave is now framed in, and I can imagine what it'll be like finished. Of course, I'm now plagued by self-doubt. Did I do this right or should I have made this bigger? Etc.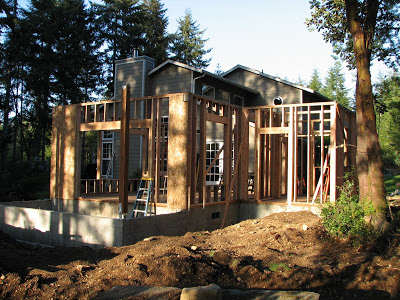 Rocky, the hubbie, is complaining that there's no wall space. Okay, so maybe I did go a teensy bit overboard on the windows, but hey, he has one 7-foot wall and one 5-foot wall to work with. What more could he want? Besides, think of the money we'll save on artwork.
I've redesigned the laundry room a dozen times. I need a dramatic theme for the laundry room. I'm considering an apple theme for the powder room. After all, I was raised in Eastern Washington apple country. Then I'll paint the walls red? What do you think?
All in all, I know it'll be wonderful.
Coming next: Trusses and a roof!!!!
No Comments