New Review for The Dance
Posted Aug 29 2008, 2:39 pm in Dressage, Jami Davenport, reviews, The Dance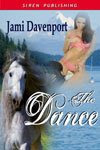 I had to share this wonderful review with all of you. It is truly incredible, and I'm blown away by it.
Siren PublishingContemporary
Full length, M/F
Review by Xeranth
♥ ♥ ♥
Right from the get-go, The Dance embraced humor, warmth, very human characters and a wealth of possibilities. It's a well told tale about two people who make choices with the best of intentions and get the worst results. However, until they face their demons, and for one of them, it ends up being formidable, they will have an incomplete future.
You might wonder about my word choice, 'incomplete future'. Think of a scale – you put two items to weigh and they don't match. Of course you are going to add something to or subtract from the one that needs to be balanced. Thing is, sometimes the item we believe to be perfect ends up being not enough. That is how I see the relationship between Rico and Mariah. It's a delicate dance to make a relationship work and Ms. Davenport explores this from a very human perspective. Our hero and heroine each end up giving, but the scales remain unbalanced. They have to come to terms with what each is willing to do, to go that extra mile, if they want that balanced future, a complete future.
The back drop totally fascinated me. Oh sure, this occurs in a delightful and romantic location but what hooked me were the horses, especially Mariah's horse, Sueño. The riding discipline that Mariah practices is called dressage. I had no clue what that was; couldn't wrap my mind around what that would look like. I found a co-worker who knew exactly what it was because she herself practices it with her horse so I was able to pick her brain. How cool was that? Think of the Lipizzaner stallions and you'll get the picture. Once I figured it out, I had a new appreciation for Mariah's character and enjoyed the story on a whole other (new) level. Now I am fascinated with Ms. Davenport's choice of profession for her character. I wonder, what was her inspiration?
The only blip in reading this story came very early on within the first few pages. There is an editing glitch where the same line is repeated twice. I can assure you that it is the only one you will find. The rest is perfect.
The conflict of the story is meaty and emotional. Ms. Davenport resists, though I have no idea how she did it, the easy way out for her characters. I really wanted Rico to save the day. I wanted the conflict to end as happily as Mariah and Rico eventually become. The author stuck to realism and endeared her characters to me even more. They are not perfect, they are not cardboard and neither are they capable of super human acts. Rico and Mariah are just a man and a woman stumbling through the pile of yuck life has thrown at them, to come out on the other side with bumps and bruises but whole.
The passion they share is sweet and hot. The happily ever after is well earned and emotional. And through it all, Ms. Davenport keeps it optimistic with humor, love of family and hope. Which is a good thing because there are some tense moments which for me, were jarring and emotional. You can't come away from reading The Dance untouched. I certainly didn't and I highly recommend this book to everyone who enjoys a well told romance.
No Comments