Now Live–The Wolfe Brothers Trilogy
Posted Apr 20 2017, 12:04 pm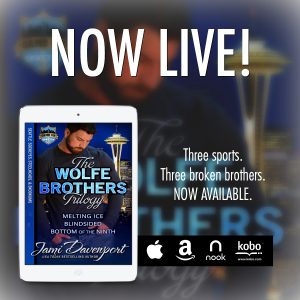 Three sports.
Three broken brothers.
Torn apart by tragedy and forever bound by traumatic pasts.
Thrust together once again when their paths cross in Seattle.
MELTING ICE
Brimming with attitude and broken beyond repair, Isaac "Ice" Wolfe has a heart as cold as his nickname, and he likes it that way–until he meets his neighbor Avery Maxwell. When Isaac is warned away from Avery, he sees the writing on the wall. It's Avery or his career. To Isaac, a life without hockey wouldn't be a life worth living. But what about a life without Avery?
BLINDSIDED
Tanner Wolfe is blindsided–by his dysfunctional family, his plummeting career, and the one thing he least expected–by love. After photos with Emma go viral, Tanner is caught in a lie and tells a bigger one to get out of it. Now he's shoulder-pads deep in a temporary marriage while struggling to resurrect his disastrous career and reunite his broken family.
BOTTOM OF THE NINTH
Zeke Wolfe, the man who's written off his entire family, rescues a young woman and three children on a stormy Seattle night. Before he knows it, he has an instant family and a fake fiancé he's certain he doesn't want.
No Comments