Rosario–Day 3
Posted Mar 25 2008, 4:49 pm in Orcas Island, Rosario Resort, San Juan Islands, Vacation
In 1904 at 47 years old, Robert Moran was told by his doctors that he had only a year to live. The stress of running his successful shipbuilding business and being the mayor of Seattle had taken their toll. Moran left his ship-building empire and retired to Cascade Bay on Orcas Island. He called his estate Rosario. He built a damn on Cascade Lake to produce hydroelectric power for his estate. Then he built a large mansion overlooking the water using his shipbuilding expertise, the Moran Mansion is built like a ship with a nautical theme throughout. The rich wood inside is teak and Honduras mahogany.
Over the years he donated several thousand acres comprising Mt. Constitution and Cascade Lake and donated them to Washington State Parks. On the grounds of Rosario, he had extensive gardens including this figure-eight pond in which family and guests could float in small boats.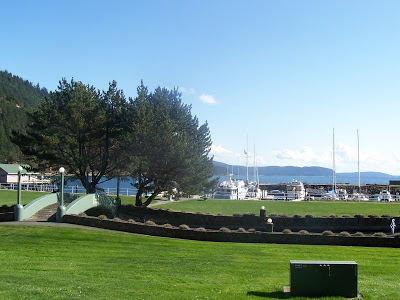 In my book, "The Dance," I talk quite a bit about the magic of Orcas Island. Robert Moran lived to be 86 on Orcas Island, 40 more years than his Seattle doctors gave him.
His estate is now Rosario Resort. The mansion contains dining facilities and a museum, in which you can see many of the original rooms decorated with period furniture and historical information.
By the way, I mentioned that we moved to another room. Here is our new view. You can see why we moved.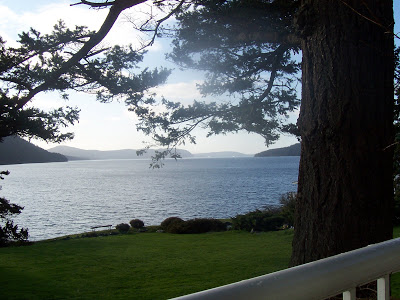 1 Comment