Rosario Update
Posted Oct 5 2008, 4:23 pm in Rosario Resort, San Juan Islands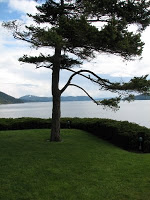 I promised a Rosario update as soon as I found out anything. If you've read my books, you know I have an affinity for the San Juan Islands and Rosario Resort. This spring my husband and I visited the resort three times.
I checked out the San Juan Islander (the local newspaper in the San Juans) and found an article on their website.
Rosario was sold at auction for only 5.4 million to a local man who hopes to develop the property into a premier resort. The good news is that the resort will be open again. For the immediate future, it'll close on October 20. There's been no word when the new owner will open it.
To read more, click here:
We're looking forward to another trip there this fall or winter, so I hope it reopens in a few months.
No Comments