Sign up for my Review Tour for Time of Possession!
Posted Jun 1 2014, 3:42 pm
Bloggers, The long awaited fifth book in the Seattle Lumberjacks series will be released at the end of this month. Sign up for my blog tour and get an advanced copy to review.
SIGN UP HERE:
https://docs.google.com/forms/d/1ychOCHsPZ0_rjThnZUy7CR8n53obl161aHh_f2vIyjU/viewform
Time of Possession–Seattle Lumberjacks Book 5 (can be easily read as a standalone), contemporary sports romance, Tour Dates: June 30-July 12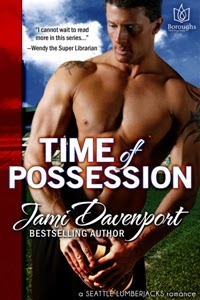 The clock's ticking down, and the hearts of Estelle Harris and Lumberjacks quarterback Brett Gunnels are about to enter crunch time.
Supposedly undersized for the NFL, quarterback Brett Gunnels went off to do a stint in the U.S. Army right out of high school. Returning damaged yet stronger—and more determined than ever to prove himself—he was the last pick in the draft. Mr. Irrelevant, they called him. But he's a starter and a winner, no matter his past few years as a backup. Now he's going to prove it.
Estelle Harris is engaged to a man she doesn't love, working in the wrong job, and fooling everyone including herself in the process. Her love of animals is the only thing that gives her purpose. As she shares that love with the Lumberjacks' reclusive quarterback, and much, much more, it's only a matter of time until their friendship turns that final, hot, dark and forbidden corner. There'll be no going back. True love is like football. It's not always how long you have the ball. It's what you do when you get it.
No Comments