Dennis and I flew into Hawaii (the Island of Hawaii) on Sunday afternoon. We're visiting our friends, Doug and Debbie, who moved here last April.
Doug and Debbie have a gorgeous house that sits 1500 feet up and overlooks Kona and the ocean. It hasn't gotten below 67 since we've been here. A rain squal came through last night, but other than that, it's been perfect weather.
Yesterday, Dennis and I started the day off at an open-air cafe in downtown Kona for breakfast, while Doug was at the dentist. He picked us up, and we made a stop at Wal-Mart for some shorts and tank tops–items we couldn't buy at home this time of year. You would not believe the view at from the Wal-Mart parking lot–checkout the above picture.
From Wal-Mart, we made a quick stop for fuel at some resort, can't remember which one, then tried to get into Muana Kea Resort's beach. Since it's limited to 30 cars, we were a little too late. So we backtracked a few miles to Hapona Beach.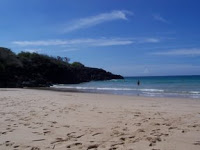 Dennis and Doug had a great time swimming and boggie boarding. Doug and Dennis are the two little dots in the water in this picture on the left. Click on it to enlarge it.
From there, on to Waimai. Dennis and I bought Christmas gifts at the Parker Ranch store, while Doug had a business meeting. Parker Ranch is the largest ranch in the US. The countryside is beautiful. It could be Eastern Washington during the spring when the hills are green. In fact, I could envision the Cartwrights (from Bonanza) riding over the ridge. You'd never believe you were in Hawaii. Debbie and I are hoping to do one of the trail rides on Saturday that covers the rangeland.
Then it was back to Doug and Debbie's for dinner and a beautiful night talking with friends and enjoying the evening.
Here's Dennis reading the morning paper on Tuesday morning on Doug and Debbie's lanai.
Aloha, more later….
Wish you could all be here.