Day One–San Juan Trip
Posted Mar 23 2008, 4:32 pm in Life, Rosario Resort, San Juan Islands, The Dance, Vacation
Dennis and I caught the 1:15 ferry to the San Juans yesterday. It was a beautiful ride over, pretty warm for this time of year, and sunny. The ferry trip was about an hour as we stopped at Lopez and Shaw Islands before we could depart at Orcas.
Here's my husband on the ferry trip over.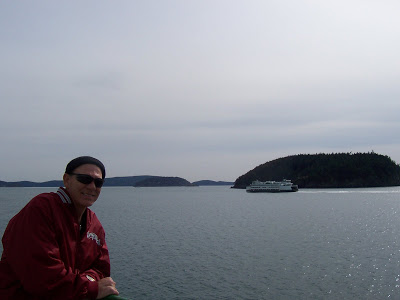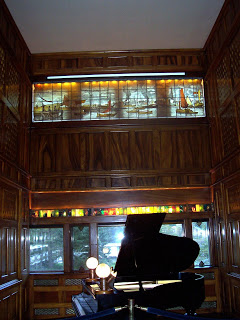 Once we arrived on Orcas, we had a pleasant, scenic drive along a winding two-lane road to Rosario Resort. Rosario was built by Robert Moran in aprox. 1904. He was a former mayor of Seattle and a shipbuilder. The Moran Mansion is spectacular and now a museim. One of the highlights of the museum is the music room with its 1900-pipe organ. The woodwork in this mansion is Honduras mahogany and teak.
Our room was a surprise. All their bayview rooms were occupied so we were given a garden view room. It actually did have a water view of the marina and Cascade bay.
We had dinner in the bar, which was Robert Moran's library at one time. I'll post pictures of the bar later this week. In my book, "The Dance," Mariah and Rico fall in love in this bar while dancing. Once you see pictures of this romantic bar, you'll see why.
Then we took a walk around the grounds, and Dennis happened upon some very friendly deer.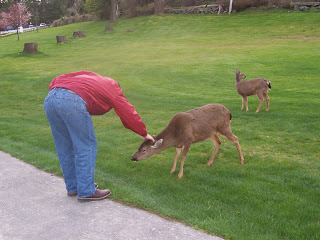 Today, we're going to move our room to one of the rooms that are perched on the cliff and hang out over the water. I'll update you about everything tomorrow.Have a great Easter.
1 Comment