An Island Fairy Tale–"Who's Been Sleeping in My Bed?"
Posted Jun 12 2008, 6:04 am in Release day, San Juan Islands, Who's Been Sleeping in My Bed?
Welcome to my release day!!!
Since I'm on Pacific time and may not be up by the time some of you have to scoot off to work, I'm actually posting this the night before.
Having my first book published is somewhat of a fairy tale for me, so I think that theme is probably appropriate for today.
I originally wrote "Who's" in 2003-04 under the title of "The Storm." Because I was using this Goldilocks theme, I changed the title to "Who's Been Sleeping in My Bed?" after doing a web search and not finding another book by that title. At least, there wasn't one at that time. I found an old movie, but that was it.
This book is loosely based on a real incident that happened to a friend of mine. You can read about it on my book page at Siren publishing. While you're there, you might want to pick up a copy of "Who's" for your very own. 😉
I made a feeble attempt to sell this book to a big publisher, finaled in a contest, and had some agent interest, then my life was interrupted by those kinds of messy personal things that are part of life. I put writing on a back burner for about 3 years. Last fall, I dusted off Who's and submitted to a few epublishers. Siren Publishing offered to publish it within 48 hours of receiving the manuscript.
So that brings us to today. Release day!!! Please join my release party at Siren-Bookstrand's Yahoo Loop. Also if you leave a comment in my blog
Today, starting with this post, or sign up for my newsletter list, you'll be automatically entered in the drawing for the San Juan Island gift bag pictured in the previous post.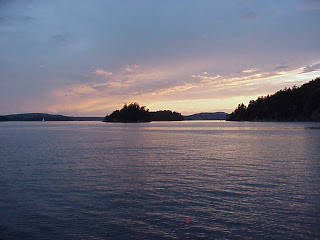 The 2nd theme of the day is islands. "Who's" and my next release, "The Dance," are both set in Washington State's San Juan Islands, my all-time favorite place in the world. This sunset scene is how I picture the view from Rosehill Farm in my book.
The first question of the day is: if you had to be stranded on an island with a fairy tale character, who would you choose and why?
22 Comments