Seduced by the Game–Hockey Anthology to Benefit Cancer
Posted Mar 8 2014, 8:05 pm
It's almost here! Seduced by the Game 2014 will release
sometime in mid-to-late April, 2014.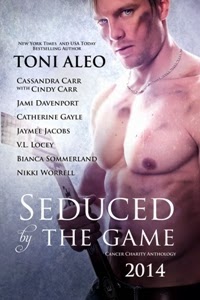 I am thrilled to be a part of this wonderful collection of
original hockey romances, penned by several bestselling sports romance authors.
You`ll not only be getting eight novellas for the price of one book, but every
penny made on the sales from this book for a year go right to Hockey Fights
Cancer.
This is planned to be an annual event, with all proceeds
going to the charity. All of the authors involved donated our novellas for the
anthology, but it didn`t stop there. Cover art, logo design, proofreading,
editing, marketing support: it has all been donated. What a great team effort
for a truly worthwhile cause!
I'll keep you updated as the news becomes available, but for
now, here's a teaser from my contribution titled Crashing the Boards, part of my new Seattle Sockeyes hockey series.
BLURB:
Can a party crasher melt the icy heart of a reluctant party
guest or will she crash and burn along with her fledgling business?
Professional party crasher, Izzy Maxwell, has been hired to
ensure the Seattle Sockeyes team party is a rousing success, while team captain
Cooper Black is determined that it will be anything but. Armed with killer
heels, a provocative dress, and loads of confidence, Izzy is determined to win
over the ruggedly handsome hockey player and save the party and her business.
Seattle Sockeyes team captain Cooper Black can't get beyond
his anger over the new owners moving his team to Seattle, the one place on
earth he swore he'd never live. Izzy hijacks Cooper, posing as his girlfriend,
and his best buddy plays along despite Cooper's protests, but Izzy's persuasive
talents, their undeniable chemistry, and a couple of intimate liaisons destroy
Cooper's resistance.
But when Cooper finds out Izzy had been hired to crash the
party, and he's been played a fool, the beginning of something special ends
before it starts. Can Izzy convince Cooper to take another chance on her or
will they both crash into the boards?
* * * *
EXCERPT:
Party crashing was an art—if done right.
Isabella Maxwell should know. She'd been crashing parties for years, at
first to get a decent meal and later—much later—as a part-time profession with
her three younger sisters. She'd never crashed a party she didn't take from dud
to memorable in minutes.
Tonight she might have met her match.
She'd done her research and knew the obstacles and challenges, but
nothing prepared her for the scene awaiting her on the party deck of the
Washington Queen, a local tour boat rented by the Seattle Sockeyes hockey team
for an evening dinner cruise around Elliott Bay.
As security checked invitations at the door, Izzy snuck past them and
peeked in the doorway, scoping out the scene inside—DJ in the corner, empty
dance floor complete with mirror ball and flashing lights, not a dancer
anywhere. Hockey players were slouched in chairs clumped around tables,
reminding her of pimply faced preteens at a junior high dance. Only these boys
weren't preteens or pimply faced. They were a formidable wall of broad chests,
bulging thighs, and determined expressions. Each one mirroring the other, but
she'd done her research. There was one man she needed to win over to salvage
this party, and he hadn't arrived yet.
Her sisters had already boarded the boat, managing to sneak past
security, every one of them dressed to kill or at least to charm a professional
hockey team, Bethany in her plunging Vera Wang gown and deadly high heels. Emma
and Avery, the youngest at twenty-one and identical twins, looked every bit
like giddy hockey groupies who'd managed to snag an invite to the party.
Standing near the buffet table, they giggled and whispered as they stole
glances at the players. Several players stared right back. Nearby, Bethany
engaged the team play-by-play announcer in conversation, while he stared at her
boobs, but men always stared at Bethany's boobs.
The stage was set.
Time to get this party started. The Sockeyes were going to have the
time of their lives if she had to threaten bodily harm with their own hockey
sticks.
"Ma'am, I need to see your invitation." A security guard with a
receding hairline, the waist of his polyester pants pulled up to his armpits,
and a determined set to his skinny jaw, stepped in front of her before she
could enter through the double doors.
"Oh, that." Izzy made a show of digging through her saddlebag of a
purse, not exactly in keeping with her little black sheath, but it served its
purpose. "I know it's in here somewhere."
The security guard wasn't the least bit impressed. He tapped his toe on
the floor and took a ready stance as if he expected her to run any moment. Just
what she needed, a SWAT team wannabe. She batted her eyes at him and continued
to dig in her purse.
"I'm sorry. I know it's here somewhere."
"Ma'am, you'll need to leave the boat until you can find it."
She laughed and tapped on his name tag with one perfectly manicured
finger. "Now, Carl, you just hold on one teensy bit. We'll get this
straightened out." Izzy slipped into her fake Southern drawl; it brought most
men to their knees.
Not Carl. In fact, not one hair quivered on his mustache. "My orders
are strict. No one, not even the governor, gets in without an invite." He
wrapped scrawny fingers around her arm and pulled her none too gently from the
doorway. He might look like a wimp but the guy was surprisingly strong.
No matter. She'd switch to Plan B.
"My boyfriend will be here any moment. He must have the tickets."
As if on cue, her target for the night walked up the ramp and onto the
boat. Cooper Black. The captain of
the newly christened Seattle Sockeyes, and the most outspoken man on the team
against the team's move and current situation, which he hated—the very man Izzy
needed to tame tonight for this situation to turn around.
Judging by the stubborn set of his jaw and those steely blue eyes, this
wasn't going to be easy.
4 Comments