Orca Whales and The Dance
Posted Jul 10 2008, 7:50 pm in Orca Whales, San Juan Islands, The Dance, Whale Watching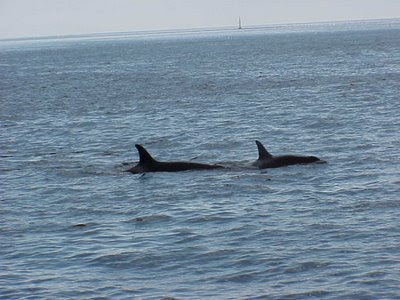 I was asked by a fellow author if I'd ever been whale watching. To be honest, I did go on a commercial whale watching boat once, but I have seen them several times on my own boat.
Over the years, my ex and I had been VERY fortunate to spot Orca Whales in the San Juans many times. Unfortunately, the best pictures were taken on a 35mm camera. This is my best one taken on an old digital. Anyway, on this one occasion, we were crossing the Straits of Juan De Fuca, heading for the San Juans. In the distance we saw a huge gathering of boats, which means one of two things, good fishing or whales.
We kept our course, out in the middle by ourselves. Neither of us wanted to participate in that frenzy that often follows the whales because we didn't believe in harassing these magnificent creatures. More often than not, the whales found us. We didn't need to pursue them. This time was no exception.
I'd put on Jimmy Buffet because the joke was the the Orcas loved jazz and Jimmy Buffet and would come to the boat if you did that. Next thing we knew, we were surrounded by a pod of 16 plus Orcas with a few babies thrown in. We shut down the boat and floated, while they frolicked and played around us for about 30 minutes, giving us a private show. It was INCREDIBLE, a moment that would bring tears to your eyes. One of them went under the boat and surfaced no more than 5 feet from it then leaped into the air for us.
In The Dance, I have a scene where a cynical Rico loses his cynicism when he encounters these whales. They play a small, though important part in the book that is somewhat mystical. You'll have to read it and see what you think.
1 Comment